Remember the tragedy when 2 boys walked into Columbine High and murdered 12 students and a teacher? Maybe yes, maybe not... Ever since the World Trade Centre went down many have forgotten...

Ever wondered what it must have been like? Well, here's your chance...

Subang Jaya Gospel Centre is adapting the Columbine Tragedy in dramatized form on the 6th and 13th of September, based on a script by Dick Lentz (www.christplay.com). The separate performances will allow flexibity for those who have tight schedules.
"WHY SHOULD I BE INTERESTED????"
Because... It's good to remind ourselves of how short life is...and how crucial some of the decisions we make are. Come and get a glimpse of the nightmare that April 19 four years ago.

Admission is free. It's not often you get entertained for free these days!!!!
See you all there!
Download the trailer here :
High quality video(14mb)
http://204.73.170.51/thealienabduction/trailer/trailer.zip
* unzip all files to the same folder and open 'trailer.exe'
Low quality video(3.89mb)
http://204.73.170.51/thealienabduction/trailer/trailerlow.zip
* unzip all files to the same folder and open 'trailerlow.exe'

for more information, contact:
jonathan tanjonny@ilovejesus.net
alvin alvinc83@yahoo.com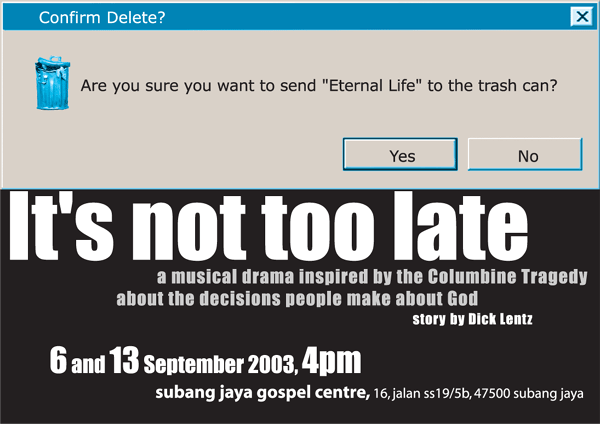 MAP to Subang Jaya Gospel Centre